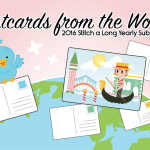 Who doesn't love postcards? They are such a great souvenir and make us travel through the world with our friends or family!
During this year stitch a long, we will travel around the world, visiting Venice, Moscow, Sidney and 9 more amazing cities stitching little postacards that will include the city landmarks and a characteristic character!
The pattern is a yearly subscription. This means that you will not receive the entire pattern in one time: every month for 12 months you will find a new file in the "My downloadable products" page with the section for the month! The payment is a one-time payment for all the 12 months.