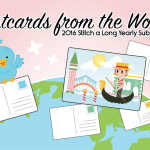 Let me introduce you the 2016 Stitch a Long!
Who doesn't love postcards? They are such a great souvenir and make us travel through the world with our friends or family!
During this year stitch a long, we will travel around the world, visiting Venice, Moscow, Sidney and 9 more amazing cities stitching little postacards that will include the city landmarks and a characteristic character!
The pattern is a yearly subscription. This means that you will not receive the entire pattern in one time: every month for 12 months you will find a new file in the "My downloadable products" page with the section for the month! The payment is a one-time payment for all the 12 months.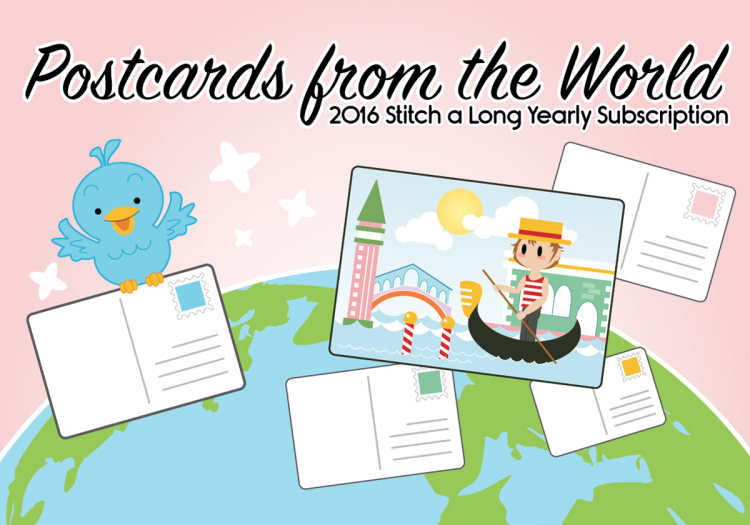 This project is stitched using a 32 count hand dyed Linen (or 16 count Aida) and a selection of Weeks Dye Works hand dyed floss, together with standard DMC floss. The pattern will measure 205x205 stitches, 13x13 inches if stitched on 32 count Linen or 16 count Aida.
We will have both the pattern only or kit options available.
If you choose the pattern only, with your purchase you will receive immediately the intro PDF, that contains the complete supply list together with a lot of useful informations. Starting from January you will receive every month, for 12 month, the monthly pattern directly in you downloadable products folder!
The kit option will include:
- Digital pattern
Per-orders will start tomorrow, December 5th. As it is a pre-order, please allow 7/10 days before shipping. For the EU customers, as you know we had to add the new EU VAT to our digital products, so I suggest you to login before purchasing: in this way you will see the pattern price including your local taxes.

We will be glad if you'd like to join us in this trip around the world!