It's the World's end AKA I've just punched a hole in my fabric
Unpicking or frogging hours of work may be a very frustrating work. This is why sometimes I prefer to use an unpicking tool. The pro of this tool is that in few seconds you can cut all your stitches and then just rub the back of the fabric to remove all the remaining pieces of thread. Be careful, however, if your fabric is not tight enough on your hoop or Q-snap, you can end of with a complete disaster, also known as a hole or a rip in your fabric.
This is what happened to me just last night (and this is the reason of the horrible pics, please forgive me).
Holy cow, I have just punched not one, but two holes in my fabric!! This means I have to trash all my hard work? No. The first thing you have to do is: don't panic.
The second thing to do is to unpick all the stitches around the damaged area and cut off the bobbles that come out of the fabric.
Then cut a small piece of aida or evenweave (same fabric and count of your work) a little bit bigger than your damage. Start to stitch in a non-damaged area around your hole paying attention to punch both the fabric pieces and to sew in the correct holes on the back. It requires a little bit of time at the beginning but when the patch is fixed correctly, it becomes more easy.
It is also more simple if you're using Aida, as the square will help you, but with a little bit of patience it can be done also with Linen and Evenweave.
Go on sewing since you reach the damaged area. Pay attention to punch the correct holes on the back so your stitches will have the right support and size.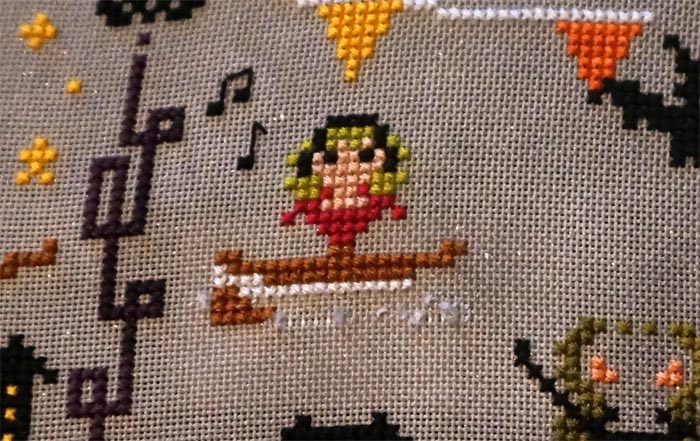 If you have some extra bits of fabric threads that came off from the stitched area just like I have on the left side, you can use a little drop of fabric glue (i.e. Fabritac) to fix them from the back.

Voilà! Our valiant hero saved the world one more time!
P.S.: If your hole is in a non-stitched area, I suggest you this tutorial from Christie, who did an excellent job in fighting the evil kid with the scissors!
You can find all the stitching 101 posts here or you can download them in PDF on our Guides Page