Stitching 101, aka learn to cross stitch in 3 steps!
Cross stitch may look difficult, but it is not, believe me! This small tutorial will guide you step by step in the cross stitch world! Are you ready! Let's get started!
What you will need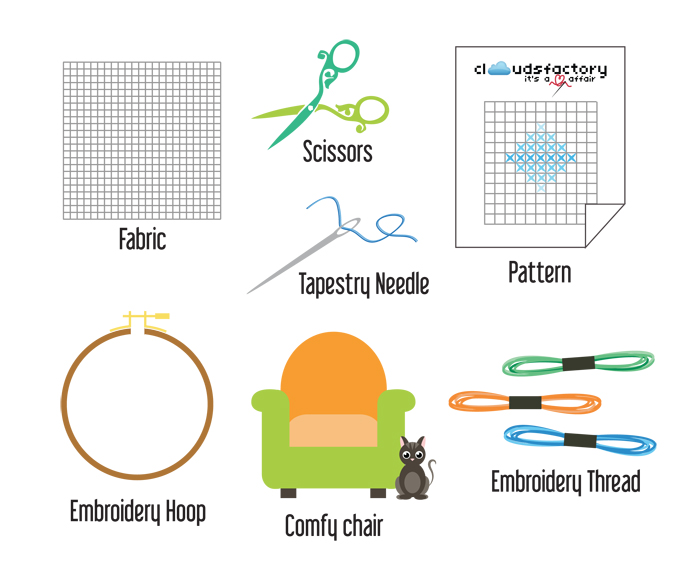 If you need more info about the different fabrics and count, you can take a look HERE!
Step 1: Thread your needle
Your embroidery thread is made up of 6 strands. You will use 1, 2 or 3 strands (depending on your fabric count) for cross stitch. Separate your floss and thread your needle with just 2 or 3 strands, your choice!
Step 2: Find the center
Find the center of your fabric as well as the center of the pattern. You can fold the fabric in half and then once more in half and place a needle or mark a dot with a water soluble marker in the center of your fabric.
Pattern usually have a little black triangle or arrow  that marks the center horizontally and vertically on the top and left of your grid.
Step 3: Start stitching!
 Begin by creating a half stitch on the front of your work and hold the thread tail behind your work (step 1-2).
Cross the stitch diagonally to create your first full stitch (step 3-4).
Flip your fabric over and pull the tail through the loop. This secures your first stitch!
The main goal of neat cross stitching is to have your stitches all face the same direction, so if you have to make a row or more rows of the same color, you have first to complete a row of half stitches, going up at 1, down at 2, up at 3, down at 4, and so on (fig 1). Now return making a row of half stitches in the other direction, going up at 1, down at 2, up at 3, down at 4, and so on (fig.2 )
To finish stitching, take your threaded needle and on the back of the work carefully weave through two or three stitches and clip your thread.
Now you're officially a cross stitcher, YAY!